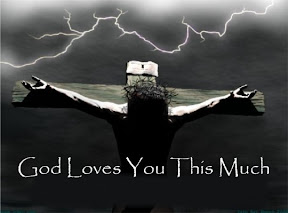 Romans 5:8
But God demonstrates his own love for us in this: While we were still sinners, Christ died for us.
Do you get that?
It is that Romans 5 passage that is what my whole blog hangs on - hence (Romans) five: one - eleven. While we were still sinners... That's what Gods love is like. Completely undeserved, and yet completely unconditional. Would you die to save someone else? Perhaps if it was your closest friend or loved one. What about an enemy? Someone who would never do the same for you? Someone who would be happy that you were dead...
When I asked this of some students, one said, "Will me dying definitely save them, or is there still a chance that I would have died for nothing anyway?"
Good question. Did Jesus die on a guarantee? No - we were still sinners. And we have a choice. That means Jesus died for people who may never even choose to be saved because of it.
That's God love. Risky, bold, extreme, self sacrificing. And if we say we are followers and imitators of Christ, then it's required of us too.
Matthew 22
Jesus replied: "'Love the Lord your God with all your heart and with all your soul and with all your mind.' This is the first and greatest commandment. And the second is like it: 'Love your neighbor as yourself.'
All the Law and the Prophets hang on these two commandments."
Love God. Love others. Everything else hangs on this.
And loving your neighbour as yourself? That means seeing others as equal to yourself, in the full understanding of your own sinner status - meaning you are no more or less deserving than anyone else. We are all equally as
undeserving.
Matthew 5:43-47
"You have heard that it was said, 'Love your neighbor and hate your enemy.' But I tell you,
love your enemies and pray for those who persecute you,
that you may be children of your Father in heaven. He causes his sun to rise on the evil and the good, and sends rain on the righteous and the unrighteous. If you love those who love you, what reward will you get? Are not even the tax collectors doing that? And if you greet only your own people, what are you doing more than others? Do not even pagans do that?
It's easy to love those people who love you back. Those people who are nice to you and think you're an awesome person. But anyone can do that.
What about those who don't really care about you. Or those people who despise you? Or actively hate you? Do you love those people too?
Thanks for loving me God, but that's hard. I'll try, I guess, but I can't promise anything...
John 15:9-17
"As the Father has loved me, so have I loved you. Now remain in my love. If you obey my commands, you will remain in my love, just as I have obeyed my Father's commands and remain in his love. I have told you this so that my joy may be in you and that your joy may be complete. My command is this: Love each other as I have loved you. Greater love has no one than this, that he lay down his life for his friends. You are my friends if you do what I command. I no longer call you servants, because a servant does not know his master's business. Instead, I have called you friends, for everything that I learned from my Father I have made known to you. You did not choose me, but I chose you and appointed you to go and bear fruit—fruit that will last. Then the Father will give you whatever you ask in my name.
So, you want to remain in God's love? Obey His command. What is that?
This is my command: Love each other.
See that little word - command. Yes, I know you physically see it. But do you really get it?
If you were in a group of soldiers in the middle of a war, and a command came through - what would happen if instead of obeying immediately everyone stopped to question it. 'are you sure', 'ok, but that sounds difficult', 'can't we do it later?' Bang, bang, bang. Everyone's dead because they were standing around thinking.
That's what a command is. It's not a suggestion or a 'pretty please, if you get around to it'.
Love each other. It's an order.
John 13:34-35
"A new command I give you: Love one another. As I have loved you, so you must love one another. By this all men will know that you are my disciples, if you love one another."
Love is a big deal. And it's unusual. Real, true love - not simply the warm fuzzy feeling we have towards those who are easy to feel good feelings for. But the intense, consuming love that has no conditions or boundaries.
People will know we are Christians by this kind of love, if we can do it, because that kind of love is what the world is desperately looking for. They'll know it and want it when they see it; the question is,
will they see it?
Because I think a lot of us as Christians are walking around desperately still searching for that kind of love ourselves. How can we show it if we don't have it?
We love because He first loved us. First you have to understand and be filled with God's love for you.
Seek Him.
Peace and joy - and all consuming love. (Romans 5:1-11)
Jessie.
But God demonstrates his own love for us in this: While we were still sinners, Christ died for us.